Our Origins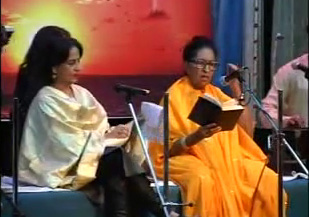 One fine morning in February, 2008, Naveen Anand came to meet Prithvi Haldea and described to him, with pathos, the miserable state of life of the yesteryear great singer Mubarak Begum, about which he had come to know from another common friend-Purinder Ganju. Prithvi, like Naveen, was instantly moved. Both deliberated on what could be done for this melodious persona, who sang few but amazing songs in the 60s and 70s. Raising some money and donating it to Begumsaheba was quickly ruled out as this was seen as giving alms. A wonderful idea then struck…can we get Mubarak Begum to come live on the stage, perform and make a rightful earning!
While Prithvi got down to fund raising (to meet the production cost and also generate enough money to pay gratitude to Mubarak Begum) , and instantly found his two friends Sanjiv Saraf and Vishnu Dusad becoming the main donors, Naveen worked hard on Begumsaheba persuading her to practice to sing to an audience. Begumsaheba had not sung publicly for 40 years, and this was indeed a Herculean task. Naveen also took charge of the production of the show, identifying other singers and musicians.
After over two months of preparation and hard work, the show finally materialized. Hamari yaad aayegi was staged to a packed hall at the India Islamic Cultural Centre on 13th April, 2008. Begumsaheba rendered 5 of her favourite songs while a group of amateur singers, who had rehearsed hard, sang 10 of her other popular numbers. These included:
Kabhi tanhaiyon mein yun
Mujh ko apne gale laga lo
Nigahon se dil mein chale aaiyega
Bemurrawat bewafa
Won aayenge
Ham haal-e-dil sunayenge
Neend ud jaaye teri
Hamein dam deke
Mere aansuon pe na muskara
Kuchh ajnabi se aap hain kuchh ajnabi se hum
Saanwariya teri yaad mein
Aankhon aankhon mein har ek raat 
The presentation format was also unique with the noted TV personality Ms. Salma Sultan engaging Mubarak Begum in conversation, eliciting memories of the golden era with several personal anecdotes. Begumsaheba was at her best, not only in singing, but also in regaling the audience with her unrivalled wit and humour.
The show was a grand success. The audience sat through glued to their seats, wanting more.
This was in a way a rebirth of Mubarak Begum. This show gave her huge confidence in herself. It also opened the doors for her to perform live at other places…invitations have just kept pouring in.
Not contented with the manner in which poetry was being brought centre stage, and with a desire to showcase the golden era of Hindi Film music and Urdu poetry, Naveen and Prithvi, along with another common friend Sangeeta Bedi, met in July, 2011 to evolve a new platform which shall focus on high quality poetry-Urdu and Hindi- and bring it to life through outstanding music and rendition. Soon enough, Sanjiv and Vishnu joined in and so did three more poetry loving friends…Dinesh Kothari, Vijay Singh Yadav and Akhil Gupta. 
On 10th October, 2011, Ibaadat Foundation was born as a not-for-profit Trust.