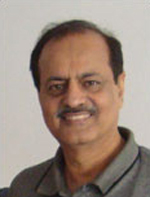 Naveen Anand graduated from Indian Institute of Technology in 1971. For the next 2 years, he worked with Larsen & Toubro, India's engineering giant. Naveen then did his MBA from Indian Institute of Management, Ahmedabad in 1975. He then joined another engineering giant, BHEL and worked there till 1979. He also had a 2-year stint in Libya. Returning from Libya, Naveen was engaged in family business for the next 8 years. 
In 1990, Naveen established a pioneering acoustics and vibrations venture, Baseline Technologies. Baseline is a leading Indian manufacturer of Sound and Vibration measurement and analysis instruments. This includes state-of-the-art sound level meters, data logging sound level meters, vibration measuring instruments, vibration analyzers, vibration monitoring instrument and field-balancing instruments. Its products enjoy reputation of being excellent in design, technology and quality with diverse customers in India and abroad. Baseline has also promoted a large number of professionals to carry out work in acoustics and vibrations areas. 
Naveen is a keen golfer, a travel enthusiast and an avid photographer. He is also deeply immersed into music, and enjoys singing for which even at this age, is taking training.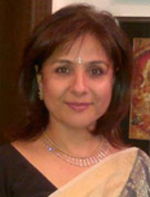 Sangeeta Bedi heads the Sangeeta Bedi School of Economics and Maths, which she founded in 1993 to teach students pursuing graduate and post graduate courses and those preparing for admissions into DSE, ISI, LSE, University of Warwick etc. This School is now a large institution, with eminent academicians, and is acknowledged as one of the finest learning centres in Delhi. 
Sangeeta, an M.Phil. in Commerce from University of Delhi, for first 9 years, taught Business Organization, Auditing Business Mathematics, Mathematical Methods in Economics and Business Studies at Jesus & Mary College and Shri Ram College of Commerce, Delhi, and Econometrics for Masters of Business Economics course at Delhi University. 
Sangeeta's other significant passion is media. She was the News Anchor (1985-2003 with Doordarshan, and News Presenter (1987-2000) and Programme Presenter (1985-2003) with All India Radio, 
Sangeeta has provided Live Commentary at several functions including the Republic Day Parade (2000-2005), Raising Day celebrations of BSF, Annual Day Celebrations of CISF and Oath Taking Ceremony of President of India, Shri A.P.J. Abdul Kalam. 
Sangeeta has been a Master of Ceremonies at scores of events including Pravasi Bhartiya Divas, Film Festival of India, Hellen Keller Awards, IITF and IRCON. She has provided voiceovers for over 500 films and ads. She is an expert in text-to-speech recordings.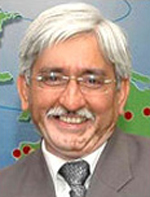 A graduate of IIT Delhi, Vishnu Dusad, 54, has absolute faith in things Indian. He believes that to begin with, we owe it to ourselves to understand and imbibe all good things that India has to offer, be it poetry, music, software, art or values. This, he is convinced, will result in a greater confidence among ourselves and make us leap forwards, efficiently and effectively. 
Nucleus Software Exports, the company he promoted, has capitalized on Indians' ability to create software products. The company's solutions, which are aimed at the sophisticated banking and financial services sector, are today operating in more than 50 countries, including US, Japan, 9 countries in Europe and all major countries in Asia and Africa. Nucleus is listed at NSE. It is the proud recipient of the Golden Shield-2011 from Institute of Chartered Accountants of India for the Best Annual Report. 
Likewise, Vishnu believes that Indian poetry and music needs to be given its due place, and that its magic to bring peace of minds will be appreciated not only by the younger generation, but by the masses, all over the world.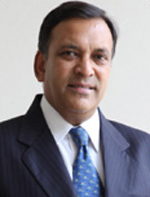 Akhil is the Vice Chairman of Bharti Enterprises. Akhil has been closely associated with a range of strategic, financial, mergers and acquisitions and business performance issues of the group. 
Akhil has spearheaded the transformational initiatives of the Group that include the outsourcing deals undertaken in the areas of IT, Network Management with and Call Centres Management. In June 2010, Akhil was instrumental in executing the acquisition of Zain Group's mobile operations in 15 countries across Africa for an enterprise valuation of USD10.7 billion which is the second largest outbound deal by an Indian company. 
Akhil was responsible for conceptualizing and implementing the separation of passive mobile infrastructure and forming Indus Towers - a JV with Vodafone and Idea, which has become the largest tower company in the world. 
Akhil is currently the Chairman of TAIPA (Tower and Infrastructure Providers Association) and President of TSSC (Telecom Sector Skill Council). 
He is a Chartered Accountant by qualification with over 30 years of professional experience. He has also done an "Advanced Management Program" at the Harvard Business School. 
Over the years, Akhil has been recognized with several industry awards and accolades; 'CEO of the Year' award - National Telecom Awards (2012); 'Outstanding Contribution to the Telecom Sector' – tele.net (2012); 'Asia Corporate Dealmaker' Award - Asia-Pacific M&A ATLAS Awards (2010). CFO India – 'Hall of Fame' (2010); "CA Business Achiever Award" (2009); 'CNBC TV18 CFO Awards for India' (2006).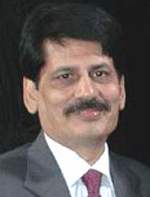 Prithvi Haldea, 73, an MBA from BITS Pilani (1971), worked for 18 years at senior positions in the corporate sector and The World Bank. In 1989, he set up PRIME Database (www.primedatabase.com), which is the country's premier database on the primary capital market, with a large subscriber base, and widely reported by the media.
Prithvi is presently a Member of the SEBI Market Data Advisory Committee.
Prithvi has served, among others, as a Board Member of the Central Listing Authority-SEBI, First Trustee of the PFRDA, Ministry of Finance Task Force on Financial Redress Agency, Board of Governors of IICA, Government's Standing Council of Experts for the Financial Sector, SEBI Primary Market Advisory Committee, Governing Councils of ICAI and ICSI, FSDC Committee on Commission/Incentive Structure of the Distributors of Financial Products and Finance Minister's High-level Expert Committee on Corporate Bonds. He was also on the board of UTI Mutual Fund for nearly 6 years.
As an investor protection activist and proponent of corporate governance, Prithvi regularly raises issues with regulators and in the media. In the pursuit of this objective, he has also launched several unique websites which include www.watchoutinvestors.com, www.primedirectors.com, and www.msmementor.in. He also created www.iepf.gov.in, an investor education initiative in 11 languages and redesigned the website of Department of Disinvestment.
A lover of Urdu poetry, he has devoted since 2011 almost his entire time to Ibaadat Foundation, which he founded for bringing poets and poetry back to life. He is also the Founder-Advisor of Rekhta.
Prithvi is a huge fan of Mukesh.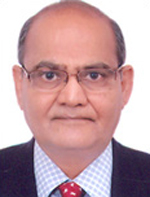 Dinesh Kothari, 62, a Chartered Accountant, started his career in 1973 with ICICI. In 1975, he joined the Bukhatir Investment Group, one of the largest business houses in Sharjah. In 1978, he became its CEO, which now has well diversified business activities ranging from Real Estate Development and Construction to Banking, Insurance, IT, and Manufacturing, employs over 6,000 people, and has establishments globally. In 1989, Dinesh ventured out on his own and returned t0 India to set up an M&A practice, with also a base in U.A.E. 
In 1997, Dinesh decided to follow his primary passion-education. He joined hands with DPS, India's premier educational institution, to start his first school in Jodhpur as a non-commercial venture. This was done under the banner of Shugan Chandra Kothari Charitable Trust named after his grandfather, an educationalist. Expanding his domain overseas, Dinesh set up a school, again in collaboration with DPS, in Sharjah in 2000 and one more in Dubai in 2003. The total strength of these 3 schools is presently over 13,000. 
All these schools have a huge focus on high quality education, and also provide divergent extra-curricular and sports facilities. Dinesh serves as an independent director of several reputed companies. 
Dinesh is fond of Hindi poetry and Urdu shayari, and provides support to poets.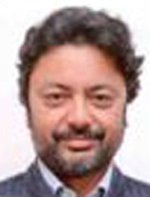 Sanjiv Saraf is the founder, Chairman and principal shareholder of Polyplex, world's 4th largest producer of PET films. 
Sanjiv is an alumnus of The Scindia School and a graduate from IIT, Kharagpur (1980). After graduation, he joined the family business in Orissa. 
In 1984, Sanjiv struck out on his own to establish Polyplex. He has built an outstanding organization which is widely respected in the industry and in the financial markets. Sanjiv has demonstrated visionary foresight in making Polyplex a global leader…starting in 1988 with 4000 TPA in U.P., it now has a capacity of 200,000 TPA with facilities in India, Thailand, and Turkey and soon in the USA. 
An entrepreneur at heart, Sanjiv has incubated other businesses such as Manupatra–India's premier legal information provider. Concern for the environment has led him to invest in renewable energy with Hydro Electric Power projects in Punjab, Uttrakhand and Sikkim. He is an active member on the boards of various companies across different industries. 
A humanist, he takes personal interest in the company's community initiatives, including a 1200 student non-profit school. Sanjiv is a voracious reader. He is also passionate about Urdu poetry (He has learnt the language and has developed the world's largest website for Urdu poetry... www.rekhta.org). Sanjiv is also a lover of art and music.